Zoom
Sale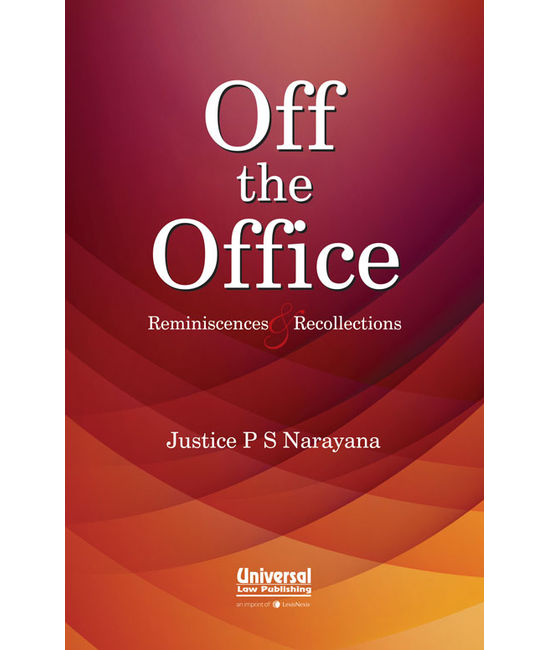 Off the Office- Reminiscences & Recollections
Product Code:
9789350357309
Availability:
In Stock
This tiny book "Off The Office" is a brief note of my experiences after laying down the office as a judge of High Court of Andhra Pradesh. Life is a struggled and experience makes us to perfect. I have always emphasised on discipline, duty, devotion, dedication and determination. Truth is a virtue and it is the essence of human life. Service to humanity is a service to divinity. Religion is something concerned with ones own "faith". The concept of divinity is a larger concept when compared to religion. Divinity is an ocean and the religions are rivers joining the ocean. In my view, there is only one supreme religion, which is "human religion". No religion preaches terrorism. No Religion preaches dishonesty. No religion preaches violence. No religion preaches hatred. All preach, peace, love, affection, prosperity, may be in different forms aiming at human welfare. This simple attempt of mine of putting the pen on the paper is just to narrate my life journey after retirement and just to demonstrate that retirement from service or laying down an office is not retirement from life and in the rest of the life too we can do something useful. It is again "divine design" and to think that we have done something may not be appropriate thinking but one does the negative or the positive as ordained by the Almighty. Some may agree some may not but this is my definite opinion of my "life experience". I do not know whether my life will be a guide to others or how far the narration of facts in this book would help the society in general. However, my book on my life journey till my laying down the office, as a Judge has already been released. This book can be taken as a further narration. I do hope that this short note of my experiences may be a simple contribution of mine to the publishing and reading world.
Details
Edition
1st Edition
Publication Year
Jul-16
Language
English
Author
Author
Justice P S Narayana
ISBN
ISBN
9789350357309
Binding
Binding
HB
Write a review
Note:

HTML is not translated!