Zoom
Sale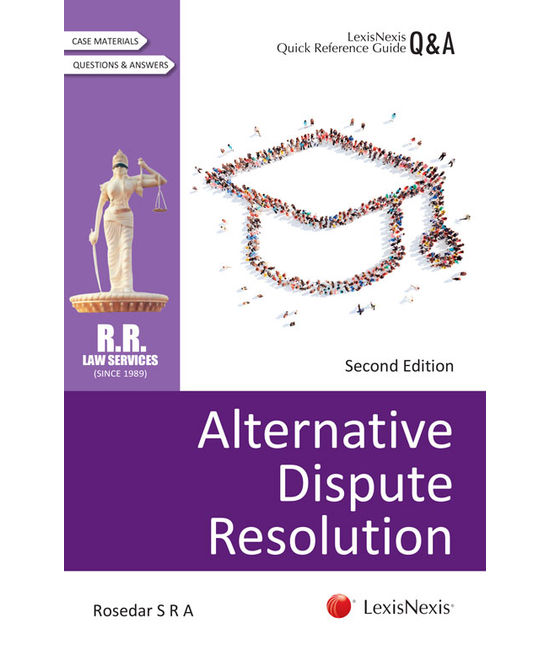 LexisNexis Quick Reference Guide–Q&A Series – Alternative Dispute Resolution
Brand:
LexisNexis
Product Code:
9789350357170
Availability:
In Stock
Alternative Dispute Resolution is specially designed for students pursuing the three-year or five-year law course in law education institutes. This revision book is part of the Quick Reference Guide: Q&A Series designed as a study aid for law students with a clear objective of assisting them in their examination preparation. The series adheres to the syllabus of the undergraduate law courses of all major universities and law institutes. Further, it deals with important topics in a comprehensive yet summarized manner.

It discusses the Arbitration and Conciliation Amendment Act, 2015 and its predecessor legislations—the Arbitration and Conciliation Act of 2006 and 1940 in the present day legal context. It also explains other types of Alternative Dispute Resolution methods – conciliation, negotiation, mediation and lokpal. The text covers important topics of Alternative Dispute Resolution such as the history of arbitration law in India, International Centre for Alternative Dispute Resolution-its scheme and objects, arbitration agreement, interim measures, International Commercial Arbitration, arbitration proceeding before the tribunal, judicial intervention, procedure for appointment and removal of arbitrators, powers of arbitrators and grounds for their removal, arbitral award, recourse against arbitral award, appeals, enforcement of foreign awards, international conventions, duties and power of a conciliator, Lokpal, Ombudsman, Tribunals and Gram Panchayats.

Key Features
• Contains about 29 questions and answers focusing on quick conceptual clarity
• Answers are supplemented with numerous judgments, case law and citations
• Helps students to prepare for various examinations and enhance their answerwriting skills by providing comprehensive and to-the-point answers
• Presents topics in a question and answer format, as a tool to aid in last-minute rapid revision
• Provides frequently-asked questions based on previous years' question papers from major universities, in the form of essay questions, short question and important cases
Details
Edition
2nd Edition 2016
Author
Rosedar S R A
Publication Year
Jul-16
Binding
PB
Language
English
ISBN
ISBN
9789350357170
Write a review
Note:

HTML is not translated!
People who Viewed This also Viewed That