Zoom
Sale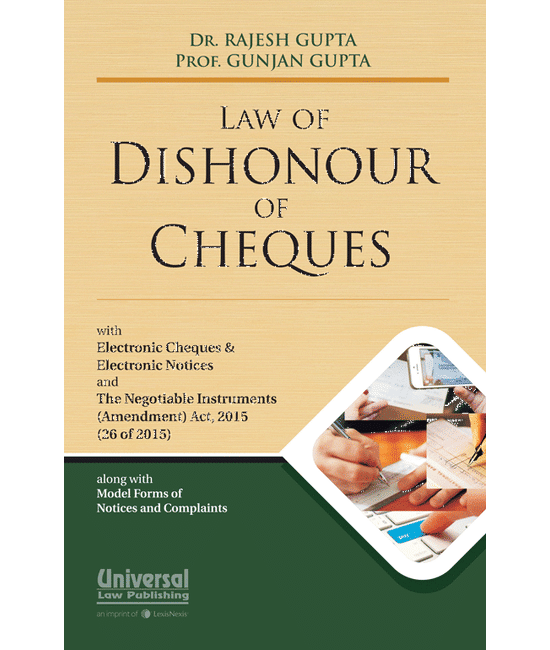 Law of Dishonour of Cheques, offences by companies, NEGOTIABLE INSTRUMENTS ACT, 1881, THE BANKERS` BOOKS EVIDENCE ACT, 1891
Rs.1,895
Rs.1,495
21% OFF
PART I INTRODUCTION CHAPTER 1 AN OVERVIEW ON NEGOTIABLE INSTRUMENT ACT, 1881 CHAPTER 2 INTRODUCTION TO SECTION 138 OF NEGOTIABLE INSTRUMENTS ACT, 1881 (AMENDMENT 2002 AND 2015) CHAPTER 3 LEGISLATIVE POLICY AND ITS CONSTITUTIONAL IMPLICATIONS CHAPTER 4 CONCEPT OF `CHEQUES` AND RELATED DEFINITIONS PART II ELECTRONIC NOTICES & ELECTRONIC CHEQUES CHAPTER 1 ELECTRONIC NOTICES CHAPTER 2 ELECTRONIC CHEQUES AND CORE BANKING PART III NOTICES UNDER SECTION 138 OF NEGOTIABLE INSTRUMENTS ACT, 1881 CHAPTER 1 LAW OF NOTICES CHAPTER 2 SERVICE OF NOTICE PART IV NEGOTIABLE INSTRUMENTS ACT, 1881 CHAPTER 1 DISHONOUR OF CHEQUE FOR INSUFFICIENCY, ETC. OF FUNDS IN THE ACCOUNTS CHAPTER 2 PRESUMPTION IN FAVOUR OF THE HOLDER CHAPTER 3 DEFENCE WHICH MAY NOT BE ALLOWED CHAPTER 4 OFFENCES BY COMPANIES CHAPTER 5 COGNIZANCE BY THE MAGISTRATE CHAPTER 6 PROCEDURE AND EVIDENCE CHAPTER 7 PROCEDURAL DIFFICULTIES IN PURSUING THE REMEDY CHAPTER 8 SUMMARY PROCEDURE, MODE OF SERVICE OF SUMMONS AND EVIDENCE BY WAY OF AFFIDAVITS CHAPTER 9 ALTERNATE REMEDIES CHAPTER 10 TERRITORIAL JURISDICTION CHAPTER 11 COMPOUNDING AND SENTENCING; FINE, COSTS, COMPENSATION AND IMPRISONMENT CHAPTER 12 LIMITATION CHAPTER 13 SUMMONING ORDER - CHALLENGE BEFORE HIGH COURT OR MAGISTRATE CHAPTER 14 THE BANKERS` BOOKS EVIDENCE ACT, 1891 PART V EMPIRICAL STUDY PART VI SUMMARY PROCEDURE UNDER CODE OF CIVIL PROCEDURE, 1908 PART VII CHEATING UNDER INDIAN PENAL CODE, 1860 PART VIII CONSUMER PROTECTION ACT, 1986 PART IX MODEL FORMS OF NOTICES AND COMPLAINTS TABLE OF CASES
Details
ISBN
9789351438038
Author
Dr. Rajesh Gupta & Prof. Gunjan Gupta
Publication Year
2016
Binding
Hb
Language
English
Page
1435
Publication
Universal Law Publishing - an Imprint of LexisNexis
Author Information
Dr. Rajesh Gupta earned all his degrees, right from graduation to doctorate, from the University of Delhi and has been practicing in Delhi High Court for the last more than two decades. During the course of his practice Dr. Gupta has dealt with many matters containing contentious issues including landmark Public Interest Litigations. As an academician, scholar and researcher, Dr. Gupta is having to his credit at least half dozen books authored by him and might be half a dozen books revised by him, besides voluminous editorial work, all released and forwarded by legal luminaries including Supreme Court Judges. Not only this, Dr. Rajesh Gupta has contributed at least 100 articles published in various reputed law journals of India. Prof. Gunjan Gupta is a product of Delhi University and she is teaching in the same Faculty of Law of Delhi University for the last about 17 years without break since after completing her academic qualifications. Prof. Gupta did her doctorate on the law relating to dishonour of cheques. Prof. Gupta also is a noted author having to her credit numerous law books and articles published in various law journals. Besides other subjects, she has been delivering lectures on Negotiable Instruments and Law of Evidence which contains substantive topics, such as, 'Law of Notices' and 'Law of Evidence with special contrast to Proof of Electronic Records' in the courts of law.
Write a review
Note:

HTML is not translated!
People who Viewed This also Viewed That