Zoom
Sale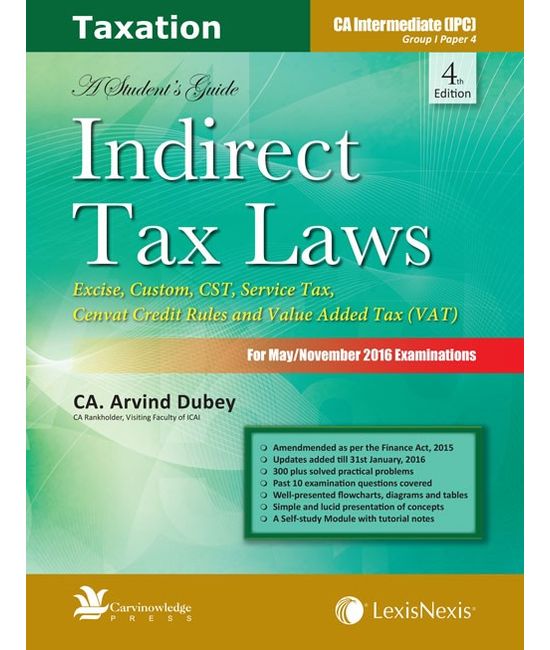 Indirect Tax Laws-A Student's Guide - Excise, Custom, CST, Service Tax, Cenvat Credit Rules and Value Added Tax (VAT) [For CA Intermediate (IPC)]
Brand:
LexisNexis
Product Code:
4th Edition 2016
Availability:
In Stock
Indirect Tax Laws (4th edition) is a comprehensive book explaining concepts, theories, problems and solutions of Excise Laws, Custom Laws, CST, Service Tax, Cenvat Credit Rules and Value Added Tax (VAT) in a lucid and informative manner. It has been developed exclusively for the students of CA Intermediate - IPC (New Course). Besides this, the book aims for arriving at conceptual clarity through clear and simple language. This book contains the interpretations of sections, rules and provisions including recent case laws. A set of previous year questions from CA papers along with conceptual questions makes this book a self-study guide for the students. This is the latest and most updated book for May and November, 2016 examinations. Special features of the book • Amendmended as per the Finance Act, 2015 • Updates added till 31st January, 2016 • 300 plus solved practical problems • Past 10 examination questions covered • Attractive presentation of flowcharts and tables • Simple and lucid presentation of concepts • A Self-study Module with tutorial notes
Details
ISBN
9789351438557
Author
CA Arvind Dubey
Publication Year
2016
Binding
PB
Language
English
Page
296
Publication
LexisNexis
Author Information
Arvind Dubey, an Fellow Member of the Institute of Chartered Accountants of India. He is a graduate in Commerce from Shree Vankateswara College, University of Delhi. He has been a rank holder throughout his CA Examinations. He has achieved distinction in papers of Taxation, Law and Audit in CA Intermediate Examination and has also obtained distinction in Direct tax and Indirect Tax in CA Final Examinations. Having completed his Chartered Accountancy Course at an early age of 21 years and thereafter associated with one of the premier law firms in the world. His core areas of practice are Corporate Taxation, Tax Litigation and International Taxation. He has been teaching Tax Laws to the students of various levels for past 10 years. Students have always appreciated his insights and teaching methods and have regarded him as a great motivator.
Write a review
Note:

HTML is not translated!
People who Viewed This also Viewed That