Zoom
Sale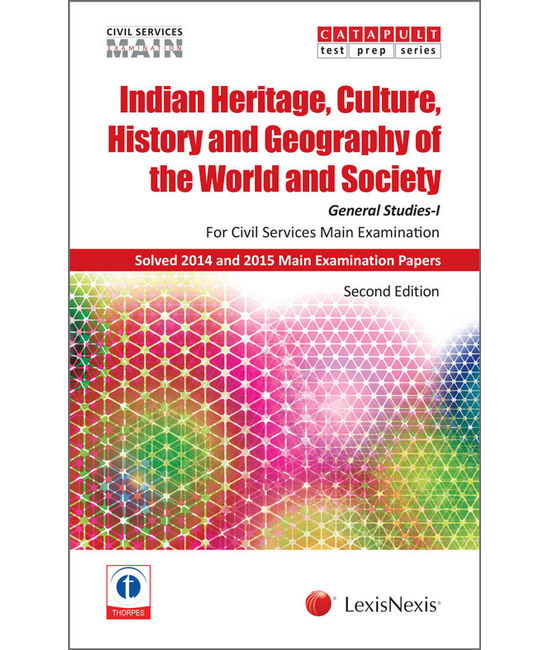 Indian Heritage, Culture, History and Geography of the World and Society (General Studies I) [Civil Services (Main) Examination]
Brand:
LexisNexis
Product Code:
9789351436609
Availability:
In Stock
Indian Heritage, Culture, History and Geography of the World and Society (General Studies I) is a comprehensive text for aspirants of Civil Services Main Examination. Mapped to the UPSC syllabus, the text covers art and architecture of India, history of India and the world, salient features of Indian society, role of women and women organizations, economic and physical geography of the India and the world and important geophysical phenomenon. The content is divided into 12 sections covering the topical array of the notified syllabus. Each section has a bouquet of chapters that deals with specific sub-topics treated exclusively for detailed understanding of subject matter. Each chapter contains many pedagogical features such as Learning Objectives at the beginning and Question Prompts at the end. It is a ready reference book for those requiring to hone their analytical skills as per the format of the examination.

Key Features:-
• Coverage of the entire syllabus of General Studies Paper I for Civil Services Main Examination
• Study of important personalities related to Indian national movement and their contribution
• Brief and analytical understanding of post-Independence developments in India
• Latest statistics on urbanization and population and study of related issues
• Important terms related to Geography and geophysical phenomenon to enhance the understanding of the subject

New to the Edition:-
• Addition of solved and practice questions at the end of each chapter
• Use of flowchart and diagrams for better illustration
• Suggested responses for the original paper of Civil Services Main Examination 2015
• Reframing of chapters based on the need and demand of latest questions asked in the examination
Details
Edition
2nd Edition 2016
Author
Chaturvedi & Pithisaria
Publication Year
Aug-16
Language
English
ISBN
ISBN
9789351436609
Binding
Binding
Paperback
Write a review
Note:

HTML is not translated!
People who Viewed This also Viewed That