Zoom
Sale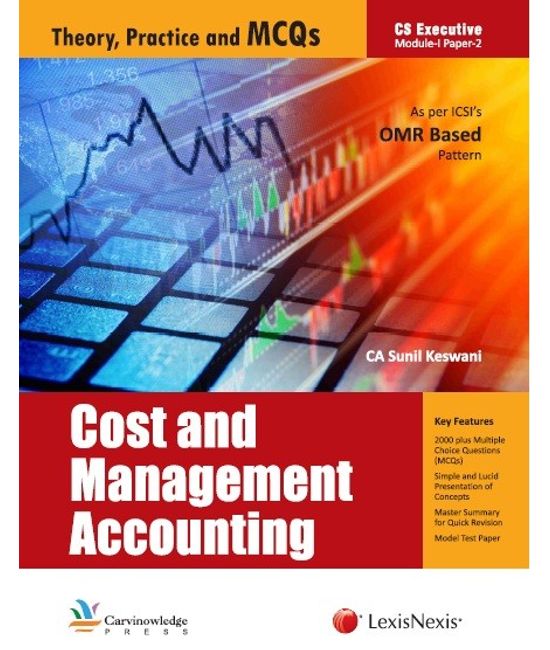 Cost and Management Accounting - Theory, Practice and MCQs
Product Code:
Availability:
In Stock
Cost and Management Accounting - Theory, Practice and MCQs
Details
ISBN
9789351433811
Edition
1st Edition
Author
CA Sunil Keswani
Description
Sunnil Keswani is an Associate Member of ?Institute of Chartered Accountants of India. He is a first class commerce graduate from prestigious Delhi University. He completed the Master of Financial Analysis Program from ?The Institute of Chartered Financial Analyst of India University? and got the designation of Chartered Financial Analyst. He had a bright academic career. He topped Delhi University by scoring 100% marks in Mathematics. He had also been awarded K.V. Chandramouli Memorial Prize for best paper in Mathematics by the prestigious ?Institute of Chartered Accountants of India. His teaching career began after his much appreciated spell at ICICI Bank. He has been guiding the students of CA, CS and CMA in the subject of Cost Accounting, Management Accounting and Financial Management for last 5 years in Delhi. He is also a faculty member of NIRC-ICAI for Intermediate (IPC) course.
Publisher
LexisNexis
Publication Year
2014
Table Of Content
Testimonials Editorial Board Preface Syllabus Mapping Basic Concepts and Cost Sheet - 190 Material Cost - 185 Labour Cost - 130 Overheads - 134 Activity Based Costing - 67 Job and Batch Costing - 41 Contract Costing - 96 Process Costing - 164 Joint Products and By Products - 52 Operating Costing - 83 Reconciliation of Cost and Financial Accounts - 67 Integrated and Non-Integrated Accounts - 60 Budgetary Control - 144 Marginal Costing - 155 Standard Costing - 253 Financial Statement Analysis - 192 Funds Flow Statement - 78 Cash Flow Statement - 101 Cost Accounting Records and Cost Audit - 16 Sample Test Paper - 100
Pages
Binding
PB
Language
English
Write a review
Note:

HTML is not translated!
People who Viewed This also Viewed That