Zoom
Sale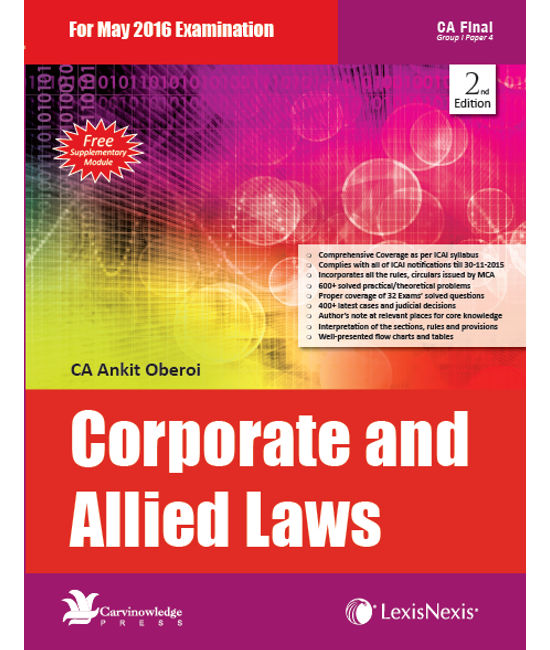 Corporate and Allied Laws - With Free Supplementary Module For CA Final Group I, Paper 4 (For May 2016 Examination)
Product Code:
Availability:
In Stock
Corporate and Allied Laws - With Free Supplementary Module For CA Final Group I, Paper 4 (For May 2016 Examination)
Details
ISBN
9789351437468
Edition
2nd Edition 2016
Author
CA Ankit Oberoi
Description
Ankit Oberoi is an associate member of the Institute of Chartered Accountants of India and a Post graduate in Finance. He has been a University ranker throughout his Graduation. He has addressed number of workshops and seminars organized by various management and professional Institutes. His areas of specialization are Mercantile Laws, Labour Laws, Corporate Law and International Laws. He has authored several books for CA and CMA students at Final and Intermediate level which have been bestsellers in their respective markets. He possesses very rich experience of teaching Law for Professional Courses like CA, CS and CMA in some of the best professional coaching institutes of India. His excellent teaching style, command over the subject and extraordinary class performance and results has made him favourite amongst the students. He possesses a great exposure in practical compliance of the various provisions of the Law. He has taught and encouraged thousand students and helped several CA, CMA Aspirants in achieving their goals successfully. He believes in imparting knowledge with a vision to ensure that each student should have a strong long-term foundation for the future and becomes a Successful Professional.
Publisher
LexisNexis
Publication Year
42339
Table Of Content
Contents of Supplementary Module ? Companies (Amendment) Act, 2015 ? Insurance (Amendment) Act, 2015 ? Definitions under the Companies Act ? National Company Law Tribunal (NCLT) & National Company Law Appellate Tribunal (NCLAT) ? Bird?s Eye View of Time Limits ? Bird?s Eye View of Penalties for Offences ? Matters Requiring shareholders? Approval by Special Resolution ? Powers of Central Government ? E-Forms
Pages
704
Binding
PB
Language
English
Write a review
Note:

HTML is not translated!
People who Viewed This also Viewed That